Nova Scotia's changing electricity landscape
Larry Hughes, PhD
Dalhousie University
9 March 2023
In 2020, Nova Scotia Power released its Integrated Resource Plan (IRP), describing ways in which it could decarbonize Nova Scotia's electricity system between 2020 and 2045.
Central to the IRP is the Atlantic Loop.
In January 2022, Nova Scotia Power began revising its 2020 IRP because of the province's new 80 percent renewables target announced in November 2021; the federal carbon pricing system replacing the province's cap-and-trade system; and the realization that demand for electricity will increase by at least 25 percent from today's levels by 2050 to accommodate electric vehicles and heat pumps.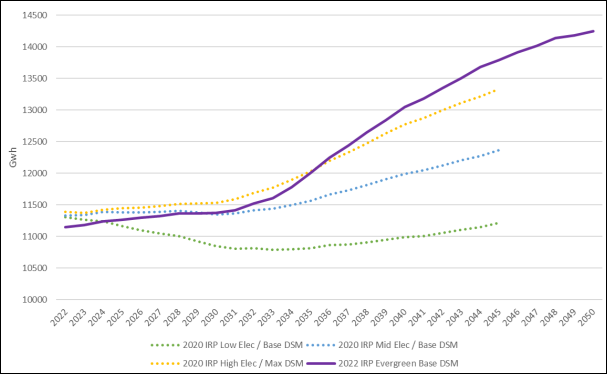 Nova Scotia Power's new annual load assumptions
The revised "Evergreen" IRP covers 2025 to 2050.
However, two events at the end of 2022 made it necessary to revise the Evergreen IRP: the province's Bill 212 affecting Nova Scotia Power's ability to raise capital and the unreliability of the eastern part of the Atlantic Loop.
In response to Bill 212, Nova Scotia Power is reducing its work on the Atlantic Loop.
To deal with the unreliability of the Atlantic Loop, Nova Scotia Power is now modelling two sets of future energy scenarios: one with the Atlantic Loop, the other without.
Nova Scotia Power plans to increase the level of renewable electricity to 80 percent using dispatchable renewable energy (such as hydroelectricity) to balance its non-dispatchable renewable energy (such as wind and solar).
Where will the dispatchable renewable energy come from?
Nova Scotia Power is hoping it will be Hydro Québec.
This might be easier said than done.
At the end of this past February, Québec Premier Francois Legault went to St. John's to discuss the future of the Churchill Falls hydroelectric project with Newfoundland and Labrador Premier Andrew Furey.
The Churchill Falls contract has been a sore point in Newfoundland and Labrador ever since it was signed with Hydro Québec in 1969. Understandably so. By 2019, Québec had made about $28 billion in profits and Newfoundland and Labrador about $2 billion despite the dam being located in Labrador.
In 2041, the contract expires.
Mr. Legault and Hydro Québec cannot afford to lose access to Churchill Falls for a number of reasons.
First, Churchill Falls meets about 15 percent of Québec's electricity demand.
Second, Québec's electrification plans for electric vehicles and electric heating means that between 2019 and 2029, Hydro Québec's electricity load is expected to increase by 10 percent.
And third, to achieve Québec's goal of reaching net-zero emissions by 2050, electricity demand in the province is projected to increase by 50 percent from about 200 terawatt-hours a year in 2020 to 300 terawatt-hours a year in 2050.
Not surprisingly, Hydro Québec is looking for new hydroelectric sites to help meet its projected demand. One of these locations is Gull Island, a potential 2,250 MW site in Labrador.
Gull Island
At his meeting with Mr. Furey, Mr. Legault suggested that he is open to renegotiating the Churchill Falls contract and made it clear that Québec would be willing to work with Newfoundland and Labrador on a Gull Island project.
Québec needs Gull Island to be developed. If a mutually beneficial contract between Québec and Newfoundland and Labrador could be negotiated, there could be markets for electricity from Newfoundland and Labrador in Québec and elsewhere such as Ontario and New England.
Québec's growing demand for electricity and the time required to develop new hydroelectric sites could affect the development of the western side of the Atlantic Loop beyond its expected 2030 completion date.
If Nova Scotia were able to access electricity from Hydro Québec, it could possibly be done through an upgrade to the grid between Nova Scotia and New Brunswick. This could be thought of as a low-cost, low-volume version of the Atlantic Loop.
Would it help?
At present, Nova Scotia Power's peak demand is about six percent of Hydro Québec's peak. Although it is extremely unlikely that Nova Scotia Power would ever require this volume of electricity, if it did, the impact would be decreased because of the different time zones: Nova Scotia has its peak demand one hour before Québec has its.
The unreliability of the supply of electricity from Newfoundland and Labrador, Bill 212, and Hydro Québec's future plans are jeopardizing Nova Scotia's energy future.
The premier needs to understand this and develop a new energy strategy for Nova Scotia.
Published: allnovascotia.com 9 March 2023